Match details
Lineup Slavia
Kolář – Bořil, Jugas, Ngadeu, Flo – Souček – Stoch, Hromada (83. Danny), Hušbauer, Sýkora (74. Tecl) – Necid (90. Sobol)
Lineup Mladá Boleslav
Polaček – Pauschek, Takács, Král, Křapka – Jánoš, Kateřiňák (56. Komličenko) – Konaté, Valenta (77. Mebrahtu), Přikryl (56. Matějovský) – Ladra
Spectators
7326
Half-time
0:0
Stats
Goals: Hušbauer 48', Stoch 55'
Booking: Ngadeu - Matějovský
Referee: Marek - Paták, Arnošt
Photo Gallery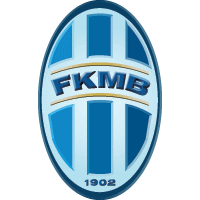 Slavia
Mladá Boleslav
MOL Cup, Tuesday 17.4.2018, 20:00
Slavia beat Mlada Boleslav 2-0 home in Eden and qualify for the MOL Cup final in May! The red & whites will compete for the Czech FA Cup for the first time since 2002.
Manager Trpišovský was missing injured captain Milan Škoda who was replaced by Tomáš Necid as a lone striker. Per-Egil Flo started on the left-back after a long break, Jan Bořil returned to the right and Jan Sýkora completed the midfield on the left wing.

After a cautious opening Slavia were the ones to appear in the first chances. Hromada fired from 25 meters after 18 minutes but Poláček punched his effort away. Just 10 minutes later Přikryl fired a similar shot on the other side, but Kolář controlled his effort on the right post.

The red & whites had several chances shortly before the half-time. Necid passed the ball to Hušbauer on the brink of the box and Slavia midfielder missed close the far post. After a corner few seconds later Ngadeu was given enough space for his header on the far post but Poláček saved his effort.

After another corner kick Boleslav goalkeeper Poláček could not hold the ball in a duel with Jugas and Ngadeu found the ball in front of an open goal but fired it over the crossbar in a difficult position.

Slavia showed even better performance in the opening minutes of the second half. Just three minutes after the break Bořil passed the ball to Hromada on the right wing, Slovak midfielder sent the ball behind to find Hušbauer on the penalty spot and he sent his effort precisely close to the left post. Slavia took a one-goal lead.

And on 55th minute the sewn-ones doubled their lead by Miroslav Stoch. After a foul on Necid Slavia was given a free kick from 20 meters, Sýkora passed the ball on a short distance to Stoch and Slovak midfielder fired it through the wall and the goalkeeper to make it 2-0. It was Stoch's 3rd goal in last two games.

Slavia than set the pace of the game and controlled their advantage. Shortly before the end Bořil appeared in front of Poláček after a clever pass from Necid but Boleslav goalkeeper reacted quickly and kicked the ball away. On the other hand Komlichenko could score a "goal of honor" for Boleslav but missed the target with his volley from inside the box.

Slavia will thus compete for the Czech FA Cup for the first time since 2002. At that year the red & whites also defeated Sparta 2-1 and celebrated their last FA cup triumph. The opponent in the final will be either Zlín or Jablonec who play their semi-final on April 25.
Related articles