Match details
Lineup Slavia
1. poločas: Kovář - Holík, Jugas, Bílek, Bořil - Ščuk - Mingazov, Alvir, Rotaň, Sýkora - Musa 2. poločas: Otáhal – Frydrych Bílek, Jugas, Bořil (68. Kingue) – Ščuk – Sýkora(81. Bucha), Hušbauer, Rotaň (81. Vejvar), Mingazov (60. van Buren) – Tecl
Lineup Žižkov
Hrubeš (46. Řehák) – Šandera, Pavlata, Čermák, Tomi, Bazal, Urbanec, Pardubský, Stratil, Švejdík, Telnar.
Half-time
1:1
Stats
Goals: 27. Rotaň (pen.), 75. van Buren – 8. Stratil
YC: Pavlata, Hrubeš
Referee: Váňa – Vlček, Melichar

Photo Gallery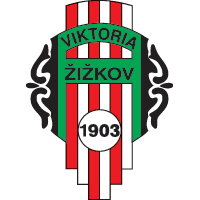 Slavia
Žižkov
přát, Saturday 24.6.2017, 10:00
PRAGUE/STŘÍŽKOV - In their first pre-season friendly Slavia beat 2-1 Viktoria Žižkov (Football National League).
Slavia started with several new faces in the line-up: New signing from Zlín Jakub Jugas as centre-back, Croatian Petar Musa as a striker or Ukrainian international Ruslan Rotaň as centre-midfielder.
Viktoria took lead by Stratil
after 8 minutes, but
Ruslan Rotaň, who is on-trial in our club, equalised soon from penalty spot after a foul on Mingazov. Slavia then took lead in the second half after Tecl´s cross had found Mick van Buren. First attempt of the Dutch forward was saved by Hrubeš but van Buren managed to rebound the ball into the net.
Slavia play next game on Wednesday, June 28 v České Budějovice (FNL, 2nd tier). On Saturday, July 1 the sew-ones meet Slovak champions MŠK Žilina on City stadium in Chomutov.
Related articles